We Laser Engrave Bottles
We Laser Engrave Bottles and it just might be one of our favorite things to do here at Laser Engraving Pros. We can laser engrave ole' Aunt Margie's favorite wine glass, pint glasses for your Saturday night drinking pals or mason jars for the finishing touches on your barn yard wedding.
Our laser engraving machines make it fun to do our job when we can laser engrave all day. We can customize any order for the special something you are looking for! We can laser engrave one bottle or two thousand! The world is your oyster here at Laser Engraving Pros when it comes to your Laser Engrave Bottles project. You just let us know what you desire and your order will be on your door step in no time.
Don't have anything on hand you need laser engraved? Don't worry, we have you covered! We have a stock pile of various items to Laser Engrave Bottles. Not sure what you want? Give us a call, our team of professionals will steer you in the right direction. We can laser engrave anything!! We are serious, we will laser engrave anything as long as it's not a person or animal. We have even laser engraved fruit because WHY NOT!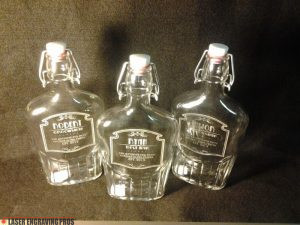 Why choose us?
Nothing withstands the power of our lasers. That's our custom engravers promise to you, laser engraving is a process which relies on technology, the proper equipment and commitment to the customer. Our customers not only order from us once, they come back to us each and every time for their laser engraving needs. Don't believe us? Just check our reviews! We are the guys you want to go to when you need your Laser Engrave Bottles.
There is single-handedly nothing cooler than being able to shoot objects made of glass with intense laser beams in order to make awesome artwork come to life. Wash it – drink out of it – display it…It doesn't matter what it is – if it's glass we will laser engrave it! We Laser Engrave Bottles in our spare time just because we can. Who doesn't like to create art all day, every day!
We're the go-to people to Laser Engrave Bottles, from groomsman gifts to college-branded glass mugs. We love helping our customers put their mark on the world. As custom engravers, it's our sworn mission to laser up as many things as we possibly can. All you need to do is point us at a target and we'll get to work for you. We love to laser! We just can't stop. We accept new work requests through the convenient RFQ form located below, or by email or phone if that's your preference. We're good for it! We just want to put our lasers to work. Help us, help us help you. Let's engrave together, like yesterday.
Quality and durability have never been easier to achieve with Laser Engraving Pros! We can really Laser Engrave Bottles like pros…. because we are pros! We don't require special tools to execute a job, although we have numerous machines varying in size, which makes laser engraving so remarkable. Laser engraving gives you the exact product you're seeking and the best quality finish you require.   With our top-notch team of professionals, we will eagerly laser engrave for you in any form. If you have a project, simply fill out an RFQ form or pick up the phone to give us a ring! Take a look at pride and joy!! We can laser etch and engrave baseball bats, knives, ukuleles, Yeti Cups, iPhones….the list goes on and on!  CLICK HERE        
Laser Engrave Bottles
Got a Project? Fill Out This Quick RFQ Form – OR Email Us Directly
Call Us: 800-482-1553